Automatic Snacks Packaging Machine 3 KW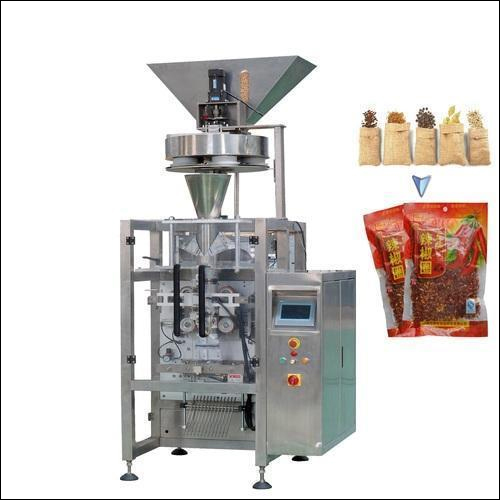 Automatic Snacks Packaging Machine 3 KW
Price And Quantity
Product Specifications
Snacks Packaging Machine

Stainless Steel
Product Description
A packaging device specifically made for automating the packing of snacks has a power rating of 3 kW and is known as an automatic snacks packaging machine. The machine's operating power consumption is indicated by its power rating of 3 kW.
Here are a few standard elements and procedures that you'll typically find in an automatic snack packaging machine:
1. Feeding System: Snacks are supplied to the packing line by the machine's feeding system. This can be a hopper or a conveyor belt that guarantees a constant flow of snacks for packaging.
2. Using a roll of packaging material, usually consisting of flexible films, the packaging machine makes pouches. The film is unwound and formed into pouches or bags by the machine.
3. Filling System: To correctly dispense snacks into the created pouches, the machine uses a filling system. This may employ volumetric fillers, auger fillers, or combination weighers that measure and control the snack quantity, depending on the type of snack and its properties.
4. The machine seals the pouches after they are filled with food in order to preserve product freshness and avoid contamination. Heat sealing and impulse sealing are popular sealing techniques that use pressure or heat to bind the package materials together.
5. Control and automation: Automated machines for packaging snacks come with control panels or programmable logic controllers (PLCs) that let operators change filling volumes, establish settings, and keep an eye on the packaging procedure. Operational efficiency and consistency are made possible through automation features.
6. Additional functionalities might be provided, depending on the machine model and snack packaging specifications. These could include integrated labelling systems, date or batch tagging systems for traceability, tear notches for simple opening, or gas flushing systems to increase product shelf life.
It's significant to note that the 3 kW power rating represents the machines operating electrical power usage. However, depending on the maker, model, and customization choices, an autonomous snacks packaging machine's precise features and functionalities may change.
Product details
Voltage(V) : 220 V
Automatic Grade : Automatic
Driven Type : Electric
Frequency (Hz) : 50 Hz
Power(kw) : 3 KW